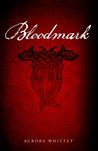 Bloodmark
by
Aurora Whittet
My rating:
3 of 5 stars
Title: Bloodmark
Author: Aurora Whittet
Series: Bloodmark Saga #1
Publication Date: October 2013
Genre: Young Adult/Paranormal/Romance
My Rating : *** 3 Stars***
My Review:
First let me say, I kindly received a copy of this book from the publisher in exchange for a honest review.
This book was a solid 3 Star read in my opinion. It has the absolute potential to be a magnificent series while at times I felt like I was banging my head against a steel door. But honestly, I think that's what made me all the more intrigued.
The actual plot and story are very intriguing and left me wanting more. When I finish a book and I feel like I need to know how things are going to play out, I consider that a successful start to a series. *ahem* Excuse me, a saga. Which by the way, I love the fact that its called a saga because it just sets the tone for epicness.
The characters were interesting but this here is where I really felt my head banging against that steel door. The main character was absolutely mind blowingly immature. I get it, I do. Shes just sixteen and super sheltered, but my god, she got to be so annoying at times. Of course, enter in stage left; bad boy Grey. While he has all the makings and trimmings to to that bad boy bookshelf boyfriend, I found myself just completely hating him. He was just so... so typically werewolf romance bad boy. And I kept huffing and sighing whenever he did something, so much, in fact that my husband asked if I was having an asthma attack. (I feel I should point out that I do not have nor have I ever had an asthma attack - but, whatever).
Still, with all that, I feel compelled to see where this story is going. Like I said, I just feel like it must be something epic. I sincerely hope it lives up to my standards.
View all my reviews