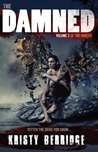 The Damned
by
Kristy Berridge
My rating:
5 of 5 stars
Title: The Damned
Author: Kristy Berridge
Series: The Hunted #2
Publication Date: 2012
Genre: Paranormal/Fantasy
My Rating: **** 4.5 Stars ****
My Review:
Another smashing hit in one of my new favorite series! I absolutely friggin' love these characters and the story that this author puts together.
I'm serious, these are my favorite characters of 2016. Wait.... I think I've just created a new goodreads bookshelf. Yup, I totally did. I mean it though, when I wasn't reading this book, all I was doing was thinking about Elena, Sebastian, Lucas, William... you get the idea.
This author is extremely original and she definitely keeps surprising me! Every time I think I might have something figured out, bam! I'm wrong. Being wrong has never felt so good. I keep getting these little hints of the upcoming darkness and I've gotta tell you, I'm totally hooked. Things are definitely about to take a turn for the worse and I know its going to be a fantastic third book.
View all my reviews